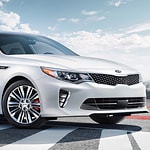 Are you looking for a new car that gets amazing fuel economy and offers all the latest conveniences? The Kia Optima is the best midsize car on the market if you want a stylish, upscale interior and lots of technology features. Even in the base edition, you get up to 178 horsepower. In addition, the Optima has straightforward technology controls including instant connectivity for smartphones. It's easier than ever to keep your eyes on the road.
With its spacious interior and quiet cabin, the Optima rivals all other cars in its class. The intuitive infotainment system is one of the best parts, but drivers also love the driver assistance features. For example, the base Kia Optima has blind spot monitoring, rearview camera with parking assist, lane departure warnings, and so much more.
Want to see what it's like to take the Kia Optima for a drive? Your test drive experience starts at Capitol City Kia.